Follow Me Fridays Hosted By Trendy Treehouse!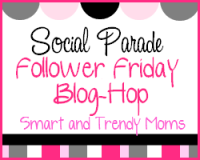 I can't believe how quickly each week goes by !
Thanks for stopping by my blog! Be sure to come back often as I have some great giveaways to post over the weekend as a mini pre-fathers day celebration! I also like posting about my family, and whatever else happens to interest me for the day.
I'm a Canadian mom of 4 kids, trying to fit in the time to get what needs to be done everyday with as much blogging in between as I can !