Follow Me Fridays Hosted By Trendy Treehouse!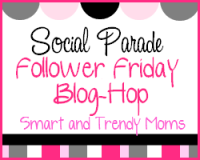 Wow! Maybe it should be called blog hop Friday?
Don't forget to check out my giveaways while you are here, they all have very low entries !!
I'm just another Canadian mom of 4, trying to make it through each day without having a breakdown! I started blogging in January, and loving it so far! I have met some great new online friends, and can't wait to meet some more!
I have a bunch of giveaways coming up, a few specifically geared towards getting your children to sleep since I have been having a hard time with my 5 year old and will be reviewing a few items trying to find something that helps her calm down. Any tips appreciated too!
I'm also an earth and animal loving cloth diaper mom!